Spinal Stenosis
With aging, the discs in the spine degenerate and narrow. To repair this condition, the spine creates bone spurs and thickened ligaments—short bands that hold bones, cartilage and joints together. This process leads to gradual narrowing of the spinal canal.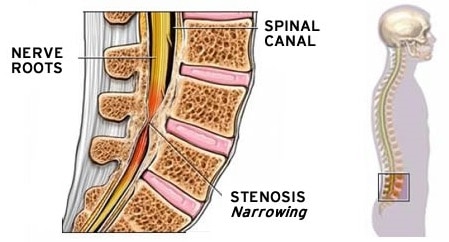 Spinal Stenosis Symptoms:
Spinal stenosis can occur at any level of the spine; however, it is most common in the lumbar (lower) and cervical (upper) spine. Symptoms vary depending on the level of compression and the whether the stenosis is present in the lumbar or cervical spine. General symptoms include:
Leg spasms
Arm numbness
Arm and leg weakness
Arm pain
Urinary and/or bowel incontinence
Decrease in muscle mass
Loss of sensation
Increased and abnormal reflexes
Typically, spinal stenosis is diagnosed with an MRI, though a CT scan can be used for patients who cannot have an MRI.
Spinal Stenosis Treatment:
The treatment of spinal stenosis depends on the severity and location in the spine. Rest and anti-inflammatory medications are the first line of treatment for spinal stenosis with mild symptoms. Exercise and physical therapy can also help rebuild fatigued muscles and encourage proper spinal alignment. If symptoms worsen or medication and therapy do not help, surgery may be needed.
There are several surgical options for the treatment of spinal stenosis.
An anterior cervical discectomy and fusion (ACDF) is the most common surgical procedure for spinal stenosis. A neurosurgeon will remove the disc through a neck incision, which relieves pressure on the spinal cord and nerves. Usually a bone graft and metal hardware are then placed in the space.
A corpectomy and fusion is similar to ACDF. During this procedure, the disc and vertebrae are removed and replaced with a bone graft and metal plate.
If there is significant compression in the spine, a laminectomy may be performed. During a laminectomy, a neurosurgeon will remove part of the vertebrae to relieve pressure on the spine and nerves.
*Disclaimer: The materials available at this website are for informational purposes only and not for the purpose of providing medical advice. You should contact your doctor to obtain advice with respect to any particular medical issue or problem. Use and access to this website or any of the links contained within the site do not create a doctor-client relationship. The opinions expressed at or through this site are the opinions of the individual author and may not reflect the opinions of the medical office or any individual doctor or physician.
We specialize in Spinal Stenosis Treatment.
At Nashville Neurosurgery Associates, we are proud to be one of the region's leading neurosurgical centers. Our team of board-certified surgeons provide expert care and treatment of spinal stenosis.
Carter Harkins
Carter had severe lumbar back pain and radiating pain down his legs. One day when he couldn't feel his legs, he went to the hospital where he was diagnosed with severe spinal occlusion. Dr. Mericle performed spinal surgery to repair Carter's spine. He has since returned to his normal activities!