Moyamoya Disease
Moyamoya disease is a progressive disease of the blood vessels at the base of the brain. For patients with Moyamoya disease, the carotid artery becomes blocked, disrupting blood flow throughout the brain. To restore blood flow, blood vessels will open at the base of the brain; however, these blood vessels cannot supply the proper amount of blood to the brain. This can cause bleeding and permanent brain damage if left untreated.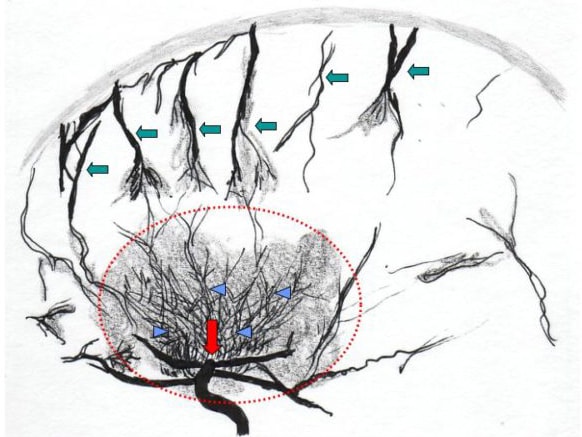 Moyamoya Disease Symptoms:
Moyamoya tends to affect children, as well as adults in their 30s or 40s. Typically, children's symptoms resemble stroke symptoms, such as weakness of an arm or leg or seizures. Adults tend to show signs of transient ischemic stroke—or mini strokes—or hemorrhagic stroke.
Symptoms from Moyamoya disease can be permanent or come and go. While each patient may experience different symptoms, generally signs of stroke or mini stroke symptoms include:
Speech difficulties
Paralysis of part of the body
Weakness
Numbness
Loss of consciousness
Imaging of the blood vessels is the only way to diagnose Moyamoya disease. This can be done with a range of imaging technology, including MRI, CT scans and nuclear medicine.
Moyamoya Disease Treatment:
The first treatment option for Moyamoya disease is typically medication. Blood thinning medication, such as Aspirin, is used to increase blood flow through the brain. This helps blood travel through the narrowed blood vessels. Most patients require regular follow-ups and have repeat imaging to evaluate any changes in blood vessel size.
Surgery may be necessary if there are worsening symptoms. An EC-IC bypass provides a direct and immediate supply of fresh blood to the affected area of the brain and is the preferred procedure whenever possible.
*Disclaimer: The materials available at this website are for informational purposes only and not for the purpose of providing medical advice. You should contact your doctor to obtain advice with respect to any particular medical issue or problem. Use and access to this website or any of the links contained within the site do not create a doctor-client relationship. The opinions expressed at or through this site are the opinions of the individual author and may not reflect the opinions of the medical office or any individual doctor or physician.
We specialize in Moyamoya Disease Treatment.
At Nashville Neurosurgery Associates, we are proud to be one of the region's leading neurosurgical centers. Our endovascular team are experts in the care and treatment of Moyamoya disease.
Evelyn Triplett
Evelyn had neurological symptoms that led her to the hospital one day after work. There, Dr. Mericle performed surgery to place stents to open her blocked arteries after her stroke.