Cervical & Lumbar Herniated Disc
Discs are the rubbery buffer between each bone—or vertebrae—in the back. A herniated disc, commonly known as a slipped disc, occurs when the central part of the disc extends into the spinal canal. This typically occurs after a tear in the tough ring that surrounds the soft inner core of the disc.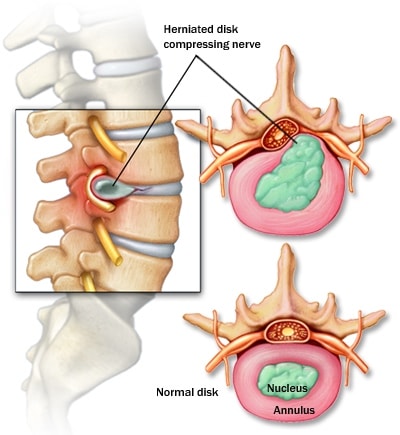 Cervical & Lumbar Herniated Disc Symptoms:
Herniated discs can cause a variety of symptoms. When a herniated disc causes problems with normal spinal cord functions, it is called myelopathy. Though symptoms can vary, the most common include:
Radiculopathy, or pain in the neck, shoulders and arms
Pain that radiates down the arm into the hand
Trouble walking
Issues with hand function
Bowel and bladder incontinence
Herniated discs are most common in older adults, and aging is the most common cause. However, trauma may also cause herniated discs. The most common diagnosis for herniated discs is an MRI. Though CT scans can be used for patients who cannot have an MRI.
Cervical & Lumbar Herniated Disc Treatment:
Herniated discs are often managed non-surgically through over-the-counter medication, steroid injections, physical therapy or prescription medications; however, if non-surgical treatment does not provide relief, surgery may be performed.  
To relieve a herniated disc, a neurosurgeon will remove the portion of the disc protruding into the spinal canal or rarely, the entire disc. This procedure, called an anterior cervical discectomy (ACDF), relieves pressure on the spine. The anterior discectomy is the removal of the herniated disc material through an incision in the neck. After the herniation is removed, a neurosurgeon performs spinal fusion. This involves placing a bone graft and metal hardware, like screws, on the vertebrae above and below the herniated disc; over time, the bone graft and vertebrae fuse, functioning as one bone and providing stability in the spine.
*Disclaimer: The materials available at this website are for informational purposes only and not for the purpose of providing medical advice. You should contact your doctor to obtain advice with respect to any particular medical issue or problem. Use and access to this website or any of the links contained within the site do not create a doctor-client relationship. The opinions expressed at or through this site are the opinions of the individual author and may not reflect the opinions of the medical office or any individual doctor or physician.
We specialize in Cervical & Lumbar Herniated Disc Treatment.
At Nashville Neurosurgery Associates, we are proud to be one of the region's leading neurosurgical centers. Our team of board-certified surgeons provide expert care and treatment of cervical and lumbar herniated disc.
Mark Emkes
Former Bridgestone Americas CEO Mark Emkes shares his experience with Dr. Ulm after shooting pain down his left arm became unbearable. Dr. Ulm performed surgery to repair his collapsed discs in his neck and has felt like new since!
Maurice Dalton
Maurice suffered from excruciating pain radiating down his legs for four years. Dr. Ulm performed lumbar fusion surgery after they tried non-surgical care for his pain. Now his life is back to normal!
David Mrozinski
David suffered from low back pain for seven years. Finally, he had enough and decided to see Dr. Ulm, who performed lumbar fusion for David's pain. He has returned to an active lifestyle running and playing golf since his surgery!